1000 Skills Conference: Day Two Recap
Skills, Skills , Skills
Things are hard, but it would be harder for you if you have no Skill - Ajulu
Yesterday was the Day Two of the 1000 Skills Conference.
1117 people tuned in.
I delved into everything that has to do with skills.
How to learn skills online.

How to profit from any skill you learn.

How to combine more than one skill to earn more.
Below are some insights shared by some of the attendees on Twitter.
---
Discuss Value before price. You eliminate competition by being Unique. Thank you Ajulu - Bridget David
---
Today's lecture was something else never had this kind of impact ever,God bless u sir.I have a lot to work on, just realised so many weak points, really do have a lot to work on - Joe Okon
---
Multitasking is art which you have to learn on its own. According to Ajulu, take a skill and master it for about 6-18 months, when you've mastered it well enough and have monetised it, then you can begin to delve into others conveniently - Ezinne Onkar
---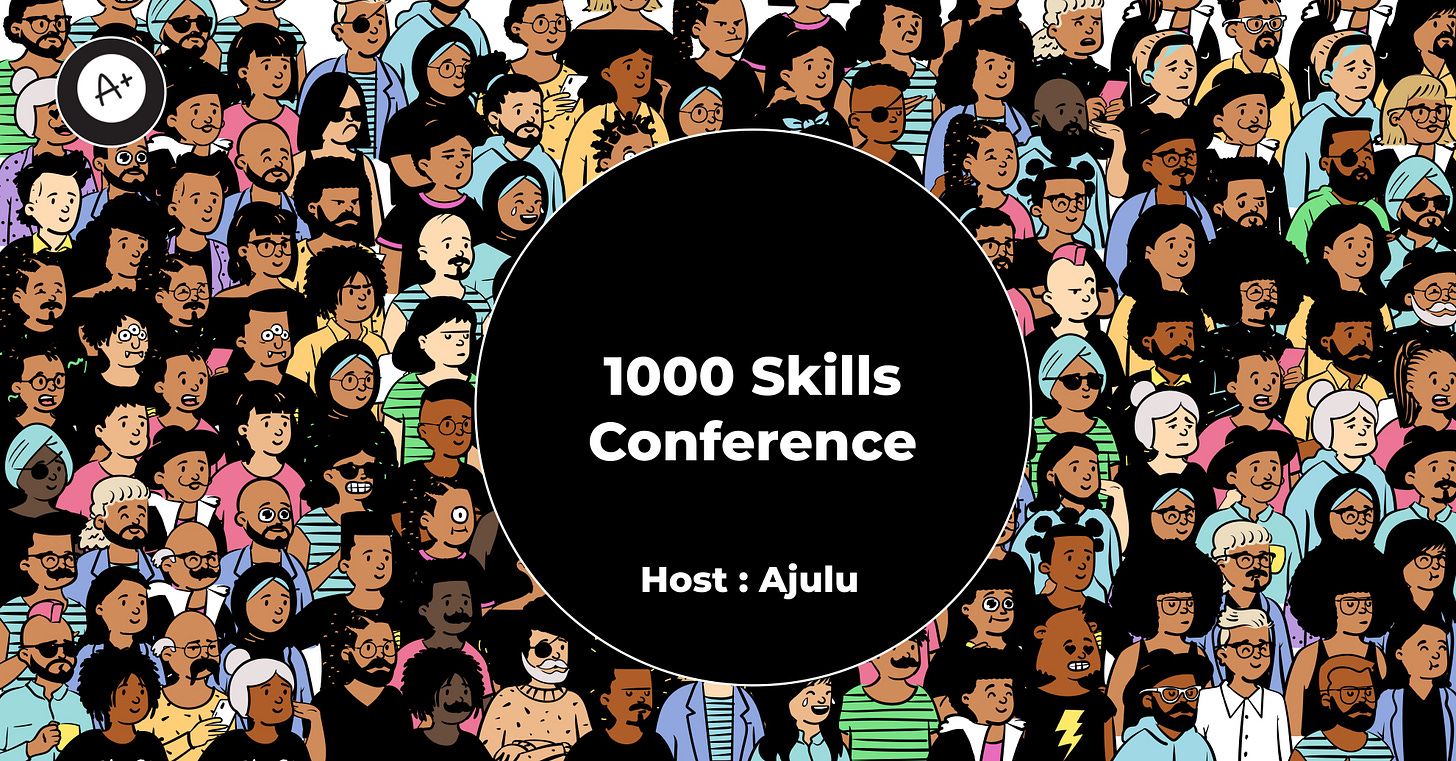 ---
Resources
I also recommended some resources during the session last night that would help anyone get started the right way.
👉🏾 Sell your Sawdust By Ajulu - Learning skills is only one part of the equation, you need to figure out how to earn from it.
👉🏾 The Rule Of Five By Ajulu - This is an all in one guide for productivity and profitability.
👉🏾 The Sales Guide By Joseph Don - this is the best book on Sales that I have ever read. It takes away everything hard about driving sales and simplifies it. I highly recommend it.
---
Special Offers
I have been getting enquires about the different courses that I offer.
I decided to give a discount for my courses all through this conference, the discount ranges from 25 - 40% .
This discount is only valid for this conference time period and expires by Saturday Midnight.
Below are the different Courses and Resources that I offer, it is important to note that they all come with accountability groups so that you can start applying what you learnt.
Like I always say, any learning that does not include action is useless.
You have probably bought courses or paid for materials that didn't add value to you because there was no structure to support action taking.
When you buy any of my resources, you will see why I am called a Neck Presser.
---
WhatsApp Domination.
This is a course where I teach people how to make money on WhatsApp, it has been taken by over 200 people.
WhatsApp is an App that most people use daily, but it is just a few that have figured out how to earn from it.
My Students has earned between #15000 to over #300,000 in one month on WhatsApp applying what I taught in this course.
Click the link below to read more about WhatsApp Domination.
---
Rule Of Five
You probably have skills but haven't figured out how to create a demand for that skill.
You probably have more than one skill.
But like I always tell my students, learning many skills would help your earn.
What would help you earn is figuring out how to earn from the skill that you have even if it is only one.
I made my first million from content development alone.
In the Rule of Five, you would be learning the Five things that you need to do daily to grow and also make money from your craft.
These Rules also work for people who are trying to learn a skill, or trying to figure out how to combine the different skills they have so that they can earn.
Click the link below to read more about the Rule Of Five
---
SuperHuman
Based on my interactions with people, I can safely guess that there are times you struggle with being productive.
And you have probably also came up with strategies that would help you manage your time well, but to no avail.
Like I always tell people, you can set out to manage your time well but still fall short.
And it is because you are ignoring what matters the most.
Which is your Attention.
What holds your attention determines what you achieve, so allocating time to a task won't solve all your problems.
You need to figure out how to block out things that drain your attention.
And the principles in the SuperHuman guide works for everyone, whether you are a student, work a 9-5 job or you are learning a skill.
One of my favourite reviews for the SuperHuman Guide came from Mrs Foluke Omo, She and her Sons used the guide to increase their daily productivity.
Like I said, it works for everyone. Young or Old.
You can read more about the SuperHuman Community by clicking the link below.
---
That's all for the Day Two of the 1000 Skills Conference. Today is Day Three and it kicks off by 9pm. Set Your Alarms so that you don't miss it.
If you are someone who want don't have my number saved on WhatsApp, or want to make any enquiry, you can message me on WhatsApp by clicking the link below.
I also have a welcome gift for new contacts.
---