If a Man does not keep pace with his companions, perhaps it is because he hears a different drummer. Let him step to the music that he hears however measured or far away - Thoreau
The digital ecosystem provides everyone with an opportunity to vastly better themselves, I recognised this in 2011 and I have been a digital nomad since.
I have had a passion for education for a long time and I have always been eager to share my knowledge with others and this has brought me this far.
I have always believed that the greatest resource on earth is Human Beings and providing value for them would bring you every other thing that you desire.
I starting writing Ajulu Notes in 2019 and I have written on topics like skills, business and also personal development. I also ran various classes on WhatsApp on various topics like Design and also Discipline.
However with time I noticed that WhatsApp is not an ideal place for learning as there was a lot of distractions on it.
I stopped running courses temporarily and sought different ways to come up with a structure that would give people full value for their money.
It is easy to stop caring after they paid for the classes without assessing if they followed up with the classes, but I have more interest in people getting value from my classes than the amount they paid.
Humans are the greatest assets
I am someone that want to count impact by the amount of people that got transformed rather than how much I was able to get them to pay me.
---
Day One is Born
I decided to move Day One to Slack instead of WhatsApp as it was easier for people for people to focus on Slack since the only channel they would be facing are learning ones.
After some research I found an even better option that would help me curate all learning resources in a way that is easily accessible.
With the different groupings, people can easily access different topics and resources without having to scroll indefinitely, the new structure also meant that people can learn at their own pace.
So the Day One Mighty Network was born.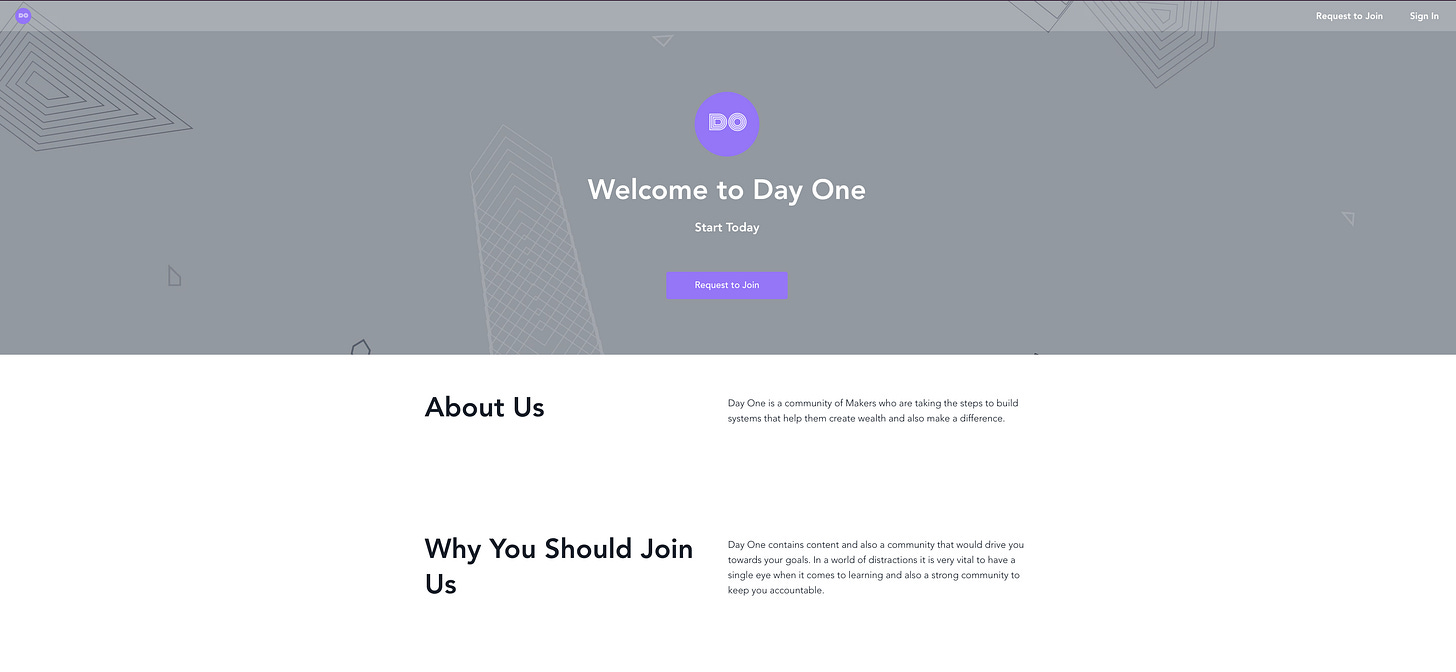 When it comes to hosting classes on social media, course creators create groups where you learn for a particular time frame and after a while things slowly ebb out.
And this is because social media itself comes with distractions of it's own and also social media groups offer no efficient way of driving sustainable conversations.
Everything that has to do with learning and conversations happen at the heat of the moment and people who are not online at the moment lose out as they have no way to filter the signal from the noise.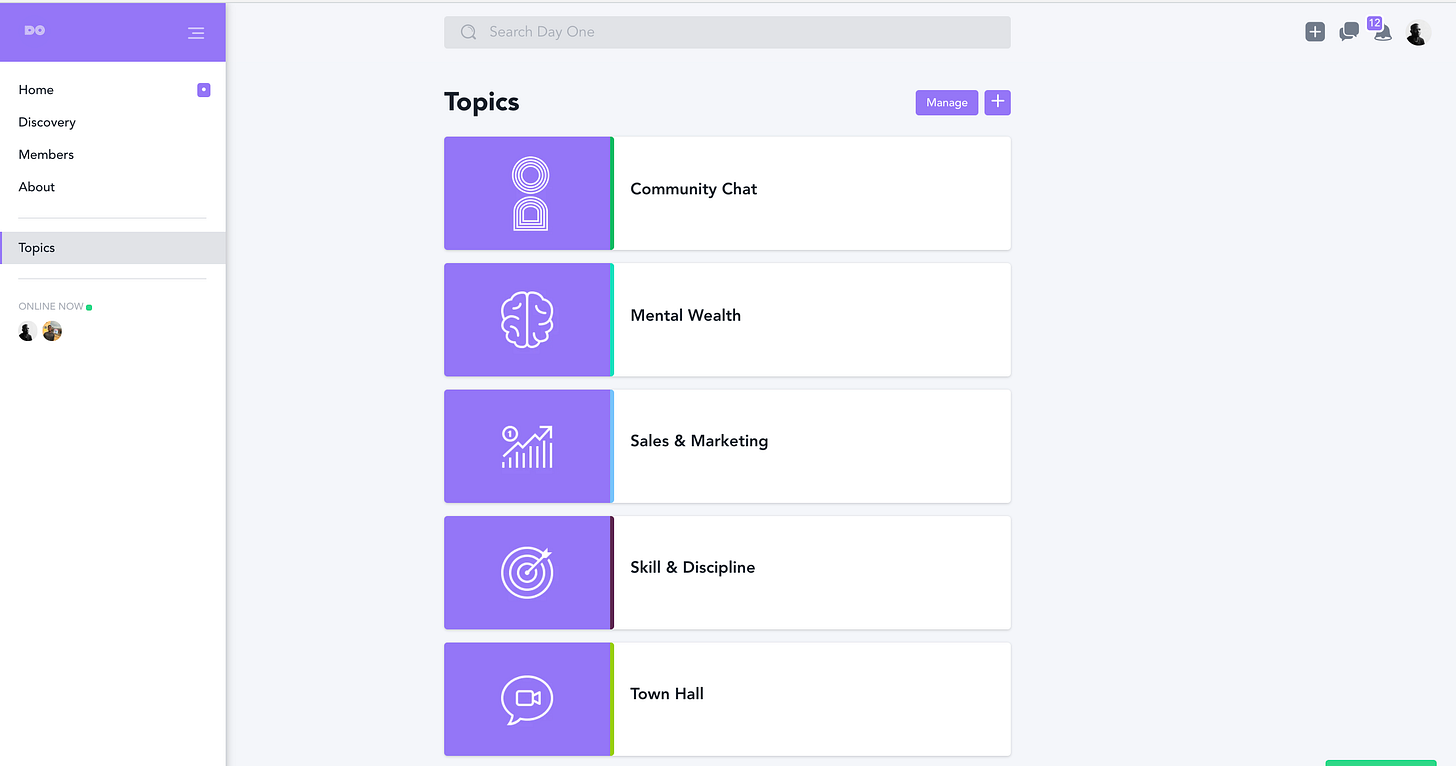 The Day One Network was designed to be like a social media application of it's own, you would be accessing the network via a different App entirely and there would be no alternative groups or discussions to distract you from learning.
All educational content would be grouped according to their categories so that you would be able to learn at your own pace without unrelated content clouding out what you have to learn.
So if you are someone with a busy schedule, you would be able to learn and get value whenever you login and you would still get to interact with the community in the general space.
The beautiful thing about Day One is the community and the accountability structure that is bound to come with it. It has been proven that doing things in groups is highly motivating and drives up productivity.
One shall chase a thousand, Two shall chase ten thousand
Based on the conversations that we have had so far, it is obvious that the synergy that would come from combining the Wisdom of all team members would even outweigh anything that I would be sharing Individually as a Mentor.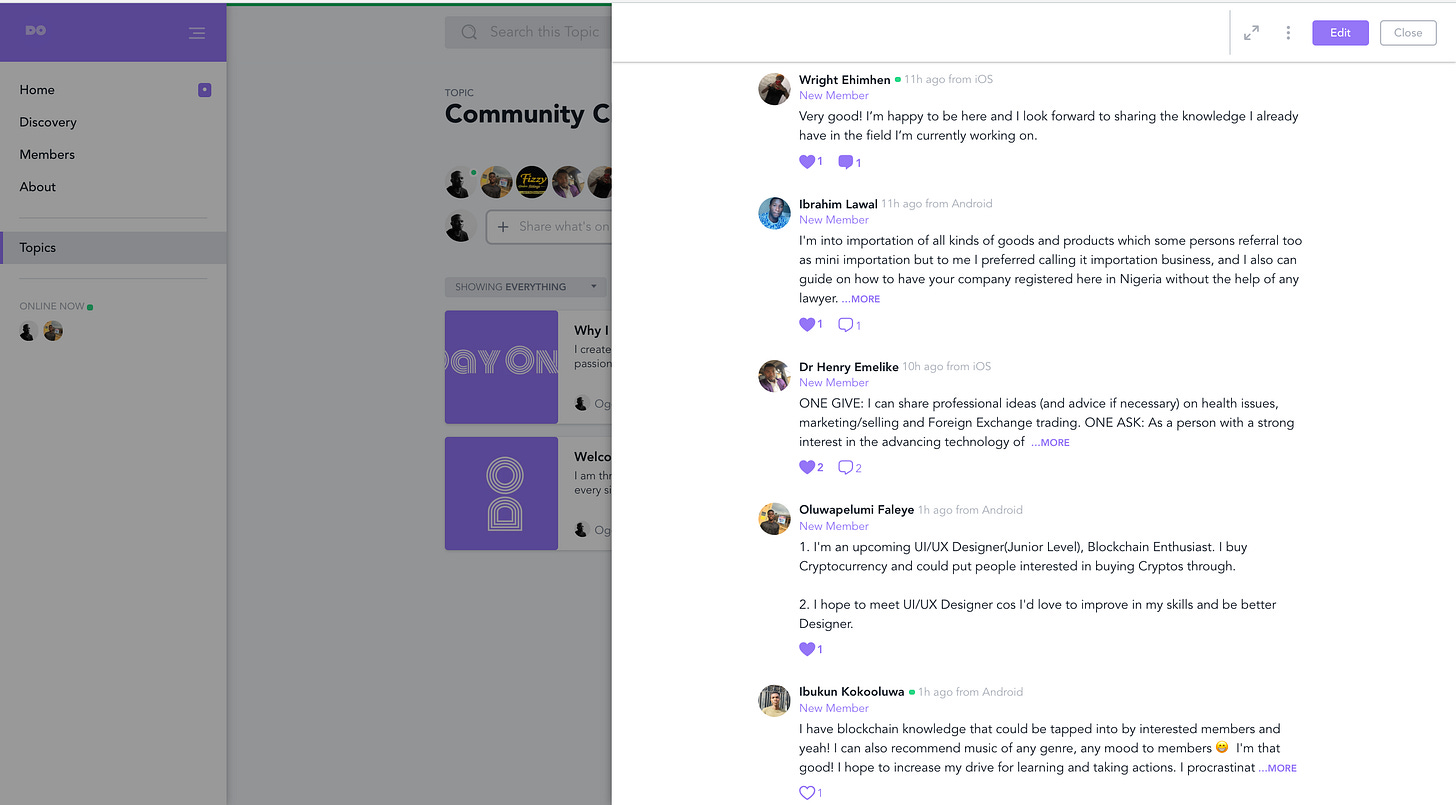 ---
Massive Value
From now on every educational course or material that I would be producing would be posted on Day One as it is the best place to host educational and actionable content.
Below are some comments from community members who are already benefiting and increasing their income from the kessons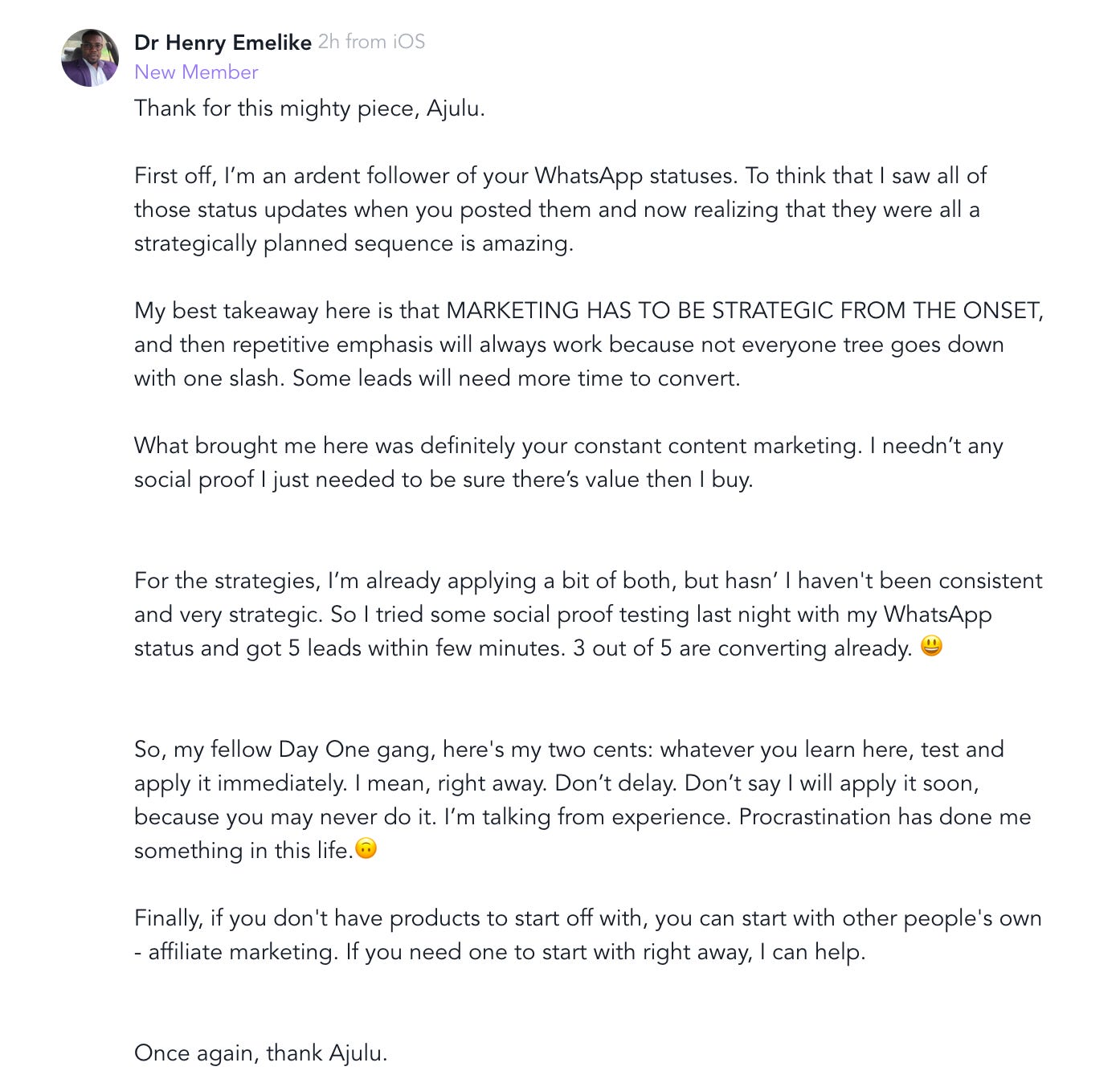 ---

---
What do I get as a Day One member:
1) A proven blueprint that would enable you build at least three income streams from any skill that you have.
2) A skill acquisition blueprint that would enable you learn and pick up any skill fast.
3) An ever growing Library of content that would contain the principles, tools and techniques that I have tested and used to grow my personal brand and online community.
4) Exclusive weekly Town Hall Live Video chat where we would dive into mental models, sales and Marketing frameworks, content production or whatever community members are keen to learn about.
You can join now by making an Investment of #5000.
Also in the future we would be migrating to a monthly or yearly membership payment, so those who join now would get Lifetime Access at the current price.
For any enquires or to make payments, message me on WhatsApp by clicking the button below.
---